Grigore T. Popa University Of Medicine and Pharmacy IASI
Home ›
Romania ›
Grigore T. Popa University Of Medicine and Pharmacy IASI
The "Grigore T. Popa" University of Medicine and Pharmacy from Iasi, Romania is one of the oldest and most prestigious institutions in the country, being classified as a University of Advanced Research and Education. The university is member of Agence Universitaire de la Francophonie and high ranked in Top Shanghai 500, Times Higher Education, Top 25 U-Multirank . Over 9,000 students in Romania and from over 80 countries around the world study in the four faculties of the University. The priority of the educational process is the training of exceptional experts with strong theoretical and practical background, able to cope with any competition at national and international level.
The Faculty of Medical Bioengineering constantly adapts its educational programs to the needs of the labor market. Taking into consideration the increasing demand of well-trained specialists in the Biomedical Science frontier field, the Faculty of Medical Bioengineering offers a partnership where the chance is on the side of those who know how to use it. We want you to have the courage to take your life in your hands with the power of a bioengineer, with the skills of a physiotherapist, the trust in your mind, and the education and spirit to bring opportunities to lift you on the highest peaks of happiness of fulfilled dreams.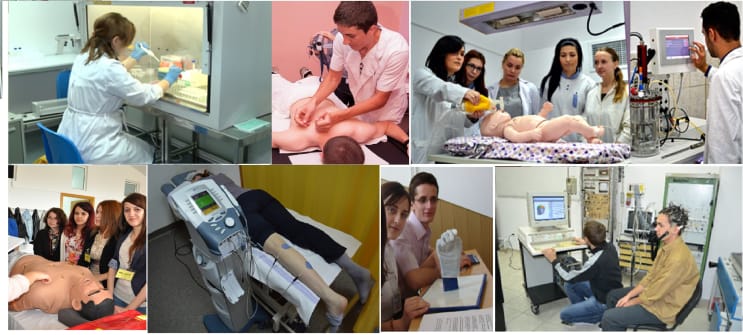 As a graduate of Physiotherapy, you will work in the field of medical services directly linked to the rehabilitation and optimizing the patient functions, child or adult, in order to contribute to its integration into specific life activities.
Physiotherapists set the stages of individual therapeutic plans based on static and dynamic exercise programs, according to clinical diagnosis and apply physical therapy techniques, kinetic, prophylactic assistance and motor rehabilitation techniques.
Step into the FASCINATING UNIVERSE of PHYSIOTHERAPY !
Do not hesitate to CONTACT US:
bioinginerie@umfiasi.ro
anca.galaction@umfiasi.ro

More information:https://www.umfiasi.ro/academic/facultati/facultatea-de-bioinginerie-medicala/physiotherapy/
The graduates of Bioengineering specialization work in hospitals, academic institutes, drug companies, prosthesist companies, and governmental agencies.
Medical Bioengineering specialists work with complex medical equipment, design, develop, or test medical devices, actively participating, along with the medical staff, in recovering patients.
The Medical Bioengineers use knowledge of Biology, Physics, Mathematical patterns and Computer Simulation to develop new therapies and medical biotechnologies.
Look to the FUTURE with the power of a BIOENGINEER!

Do not hesitate to CONTACT US:
bioinginerie@umfiasi.ro
anca.galaction@umfiasi.ro
ancagalaction@yahoo.com
More information:https://www.umfiasi.ro/academic/facultati/facultatea-de-bioinginerie-medicala/biomedical-engineering/
Locations
Iași
Address
Strada Universității,nr. 16
700115
Iași
,
Iași County
,
Romania