The Cyprus School of Molecular Medicine
Home ›
Cyprus ›
The Cyprus School of Molecular Medicine
About the Cyprus School of Molecular Medicine (CSMM) The Cyprus Institute of Neurology and Genetics (CING) established its postgraduate school, the Cyprus School of Molecular Medicine (CSMM) in September 2012, aimed at students with research interests applicable to the Institute's activities. The CSMM provides an unrivaled educational experience to the highest achieving students, who can expect to be taught and mentored by the leading Biomedical Scientists and Neurologists in Cyprus, while also working alongside them in their respective laboratories. The CSMM offers seven programs of study leading to MSc and Ph.D. degrees, respectively. The programs offered lead to the following titles: 1. Master of Science (MSc) in Molecular Medicine 2. Master of Science (MSc) in Medical Genetics 3. Master of Science (MSc) in Neuroscience 4. Master of Science (MSc) in Biomedical Research 5. Doctor of Philosophy (Ph.D.) in Molecular Medicine 6. Doctor of Philosophy (Ph.D.) in Medical Genetics 7. Doctor of Philosophy (Ph.D.) in Neuroscience
As a Center of Excellence in basic and applied research in biomedical and clinical sciences aiming to combine services, research, and education so as to ultimately improve the quality of life of people, the CING has paved the way for a new generation of scientists. The Cyprus School of Molecular Medicine, housed within the CING premises provides students with a unique educational experience combining taught courses and research conducted in specialized state-of-the-art laboratories, in the areas of neurology, genetics, and biomedical sciences. CSMM students are taught and mentored by some of the most highly qualified scientists in their fields. The CSMM aims to attract outstanding students with intellectual curiosity, who want to expand their education and the state-of-knowledge on regional problems of global significance on the topics covered by the Departments and Clinics at CING.
What you gain as a CSMM student
Upon completing their selected program of study, graduates of the CSMM can expect to have in-depth knowledge of topics covered by the specialist Departments and Clinics of the CING, while also advancing their analytical skills, comprehension of problems and ability to propose innovative solutions contributing to the international scientific community. The vibrant environment of the CING, within which the CSMM is housed, provides the ideal setting for students to experience and benefit from the 3-pillars working seamlessly together to form a positive feedback loop:
SERVICES
(day clinics and inpatient ward),
RESEARCH
(6 Clinical Sciences departments and 9 Biomedical Sciences departments) and
EDUCATION
. It is the goal of both the Institute and the School for our students to acquire not only academic proficiency while at the CSMM, but also valuable transferable skills. For this reason each of our programs and their respective courses have been built to include practical and crucial skills, such as the ability to work diligently and productively on challenging projects, the ability to set goals and successfully manage a study/lab schedule, teamwork skills, good communication skills and effective communication of ideas both verbally and in writing.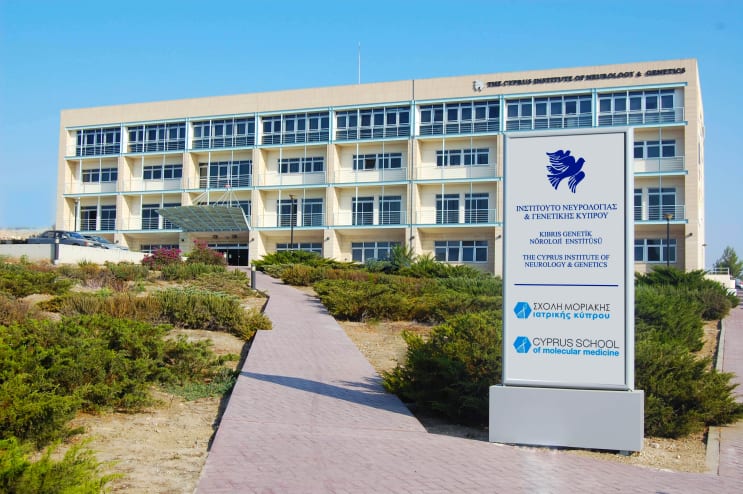 Locations
Nicosia
Cyprus Institute of Neurology & Genetics
Address
International Airport Ave. 6,
Ayios Dhometios
Nicosia
,
Nicosia
,
Cyprus