Bachelor in
Degree in Dentistry
University of Oviedo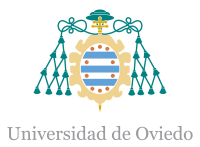 Introduction
Admission profile
Recommended Baccalaureate with passed University entrance exam: Sciences and Technology.
Recommended higher level training cycle: Professional Health Family.
Access Test for people over 25, 40 or 45 years old.
University degree.
For admission to the degree, a personal profile that includes a vocation of service in health activities is considered adequate. Likewise, it is highly recommended that the applicant posses manual skill, since the profession of dentist requires it, as well as an important knowledge of the subjects of health sciences and the English language.
Professional outings
The fundamental objective of the proposed dental study plan is to train a professional with adequate knowledge, skills, attitudes and competencies, who will enable them to serve society by satisfying their oral health demands, both in its prevention and health aspects. diagnosis and treatment, in an ethical way and with efficiency and safety. This professional must appreciate the need for development and continuous training throughout life, must be able to efficiently use advances in knowledge and technology and understand the central role of the patient in making therapeutic decisions.
Professional profiles:
Public or private health.
University Teaching and Non-University Teaching.
Public administration.
Freelance professional.