MSc in
MS in Epidemiology
University of Louisville - School of Public Health and Information Sciences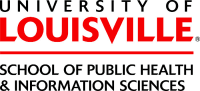 Curriculum
Degree requirements include required coursework in epidemiology, elective coursework in biostatistics and in public health sciences, and a thesis.
38 total credit hours:
20 credit hours of required coursework
12 credit hours of elective coursework
6 credit hours of thesis research
Year 1
FALL
HOURS
PHEP 621
Statistical Foundations for Epidemiology
4
PHEP 622
Population Pathology
3
PHEP 623
Theoretical Foundations of Epidemiology
3
Hours
10
SPRING
1
3
Public Health Selective 2
3
PHEP 618
Epidemiologic Methods II
4
Hours
10
SUMMER
PHEP 666
Master's Independent Study in Epidemiology and Population Health (optional) 3
1-3
Hours
3
Year 2
FALL
PHEP 701
Advanced Epidemiologic Methods
3
PHEP 702
Epidemiologic Research Management
3
Content Course Elective 1
3
Hours
9
SPRING
Content Course elective 1
3
PHEP 666
Master's Independent Study in Epidemiology and Population Health 3
1-3
Hours
6
Minimum Total Hours
38


Program Outcome
Employment of epidemiologists is projected to grow 30 percent from 2020 to 2030, much faster than the average for all occupations.
About 900 openings for epidemiologists are projected each year, on average, over the decade. Many of those openings are expected to result from the need to replace workers who transfer to different occupations or exit the labor force, such as to retire.
Career Opportunities
Career
Epidemiologists work at both the forefront of public health in the control and prevention of disease, disability and death, and behind the scenes researching risk factors and causes of health problems across populations. Epidemiologists play a key role in public health by collecting data on health indicators in populations through screening and surveillance systems. We detect, investigate and mitigate infectious disease outbreaks, design health, and disease screening and surveillance programs, and disease control and primary and secondary preventive interventions. Most importantly, we generate new knowledge about disease etiology that helps guide health policy and promotion, as well as medical treatment.