Courses in
Program in Structural Osteopathy
ISMET - Formación en salud y terapias naturales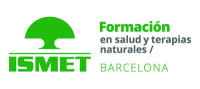 Introduction
Study Modalities
On-site in mornings
Subjects of health sciences in afternoon and Saturday group, or Online mode. There is the possibility of combining several modalities, check availability of each subject.
Access to studies: currently, natural therapies training is not regulated by the Ministry of Education, and therefore the access required of students is ESO or equivalent
Professional outings
Open an osteopathic care center, work in health centers, rehabilitation centers, sports centers, spas, hotels, luxury cruise, spas and wellness centers.
Titling
Once completed and passed the evaluation tests of all subjects will be processed the "Graduate in Structural Osteopathy" (1.114h), once passed and completed the second course
Evaluative system
The evaluation is continuous, with different parts throughout the year and is explained by each teacher at the beginning of each subject. There are 3 calls to overcome each subject. In the "Student's Guide", through the campus, it is reported in detail.
Tutorials
ISMET students have a tutor, who can go in case of schedule changes, difficulty tracking subjects, personal problems, etc.
Additional services
Promotions and special prices in other courses. Computer room with Internet connection. Service sale material. Special promotions at the ISMET therapy center. Academic advice by the studies tutor. Therapies in practices for the students. ISMETalumni, alumni association. Job vacancies
Schedule
Structural Osteopathy (16 credits)
Anatomy with osteopathic orientation, biomechanics, biophysics, palpatoria anatomy I (16 credits)
Orientation to clinical practice (3c credits)
Clinical Practice I (3c credits)
Human Anatomy (16 credits)
Optative subjects
To complete your training, we recommend the following optional modules for the 1st course
Dietetics, nutrition and naturopathic diet therapy (16 credits)
Introduction to Kinesiology (16 credits)
Curriculum
2nd COURSE
16c Structural and Functional Osteopathy II
16c Palpatoria anatomy, anat. osteopathic orientation, biomechanics, biophysics II
16c Human Physiology
12c Clinical Practice II
OPTIONAL
16c Cranial Osteopathy
16c Visceral osteopathy
16c Dietetic nutrition and diet therapy
6c Radiology applied to osteopathy
6c Posturology and ATPO
6c Osteopathic clinic and semiology
3c Applied pharmacology
1c Research methods
1c Introduction to kinesiology
1c Introduction to marketing and tec. communication
1c Legislation for professional natural therapies
1c Research methods applied to the query
0,5c First aid
Registration conditions
Validated subjects: the deadline for the validation process is OCTOBER 23, 2018. A visit with the tutor will be arranged, presenting the title or certificate of grades and syllabus of the subject to be validated. In case of obtaining it the student will pay only 25% of the amount of the same
The courses taken in online mode have a supplement of € 27.37 / month per subject and during the months it lasts.
ANNULMENTS AND CHANGES: the withdrawals do not imply in any case the refund of the amount paid, and will be effective from the month following the date of notification
Split payment by direct debit: the monthly installments will be domiciled between the 1st and the 10th of each month approximately .. the returned receipts will be paid in the Secretariat (in cash or card) and will have a surcharge of € 6 / receipt, for return expenses .
IMPORTANT NOTE: the school reserves the right to cancel a group / subject, with prior notice, in case there is no minimum group