Master in
MASTER HERBALIST (MH) DEGREE
Holistic Arts Institute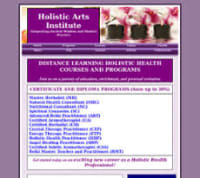 Scholarships
Explore scholarship opportunities to help fund your studies
Introduction
In the HAI Master Herbalist Diploma Program, you will address the issues of being a community herbalist and of practicing herbal medicine in the modern world. You will cover the many practical aspects of herbalism, including: growing, drying, and preparing medicinal herbs; learning to listen to clients and recommend holistic treatments for healing and continued wellness; licensing, marketing, and other legal and business issues facing modern herbalists; herbal workshops, conferences, and education centers; and comprehensive resources and suggestions for building your herbal library.
You will be introduced to plants used in traditional Western herbalism, as well as those from Traditional Chinese Medicine and Ayurveda; the latest findings concerning phytonutrients, the beneficial vitamins, minerals, and antioxidants that are found in many readily available plant foods; trees with healing energies; and plants that are traditionally employed for spiritual healing. You will become familiar with the holistic approach to herbalism, which places it in a broader context revealing plants in their affinity for healing the whole person—their inner health, relationships, and life in the world.
Information on more than 200 herbs and herbal combination formulas; detailed coverage of Chinese and Ayurvedic herbs; discussion of more than 150 common disorders and their suggested herbal therapies; and meticulously researched findings culled from the latest studies on individual herbs will be included. Step-by-step instructions are provided for making numerous herbal preparations including water infusions and decoctions, hydrosols, flower essences, tinctures, wine infusions, vinegar infusions, glycerin infusions, oil infusions, ointments, salves, balms, lotions creams, syrups, honeys, poultices, and much, much more. You will gain the herbal medicine-making wisdom necessary to create an herbal pharmacy tailored to your lifestyle; develop and refine your medicine making skills to suit your needs; and prepare your very own superior quality herbal medicines.