MSc in
Master of Science in Esthetic Dentistry (MED)
Goethe Dental School, Goethe University Frankfurt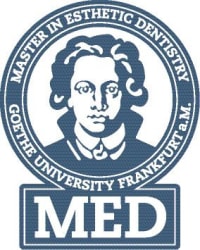 Introduction
Program description
The Master's program "Master in Esthetic Dentistry" at the Goethe University in Frankfurt offers advanced academic training in the field of esthetic dentistry with an international focus. It is a 90 ECTS part-time program where the medium of instruction is English.
The MED program is designed for the general dentist who has already taken the first step towards the field of esthetic dentistry. It aims to qualify students for demanding synoptic treatment options by enhancing their methodological and manual skills as well as increasing their awareness of the importance of objective evaluation of esthetic cases.
As all areas of dentistry need to be combined to achieve excellent treatment results, oral- and maxillofacial surgery, dental prosthetics, periodontology, conservative dentistry, orthodontics, and dental technology-related topics play an important role throughout the whole program.
The program also presents you with the opportunity to improve your interdisciplinary and comprehensive skills in designing and applying the best treatment options.
Being completely non-sponsored and independent, the program is providing you with an unbiased view of the latest scientific insights and treatment options. Additionally, interdisciplinary topics are addressed, e.g. ethics and economics, to broaden your expertise in fields other than dentistry to gain benefit from applying different perspectives to your professional knowledge in the field of esthetic dentistry.
Our unique tutorship system supports you along the way – making sure that you always have a go-to person in case of questions regarding your patient treatment cases or master thesis.
Upon successful completion of the program, the graduates will be awarded the academic title "Master of Science (MSc.) in Esthetic Dentistry".
Curriculum
Attendance
Over the period of 2 years/4 semesters you'll be travelling 3 times to the Goethe-University, each time for approximately 10-11 days. During each visit you'll have face-to-face seminars, lectures as well as hands-on trainings scheduled throughout the day.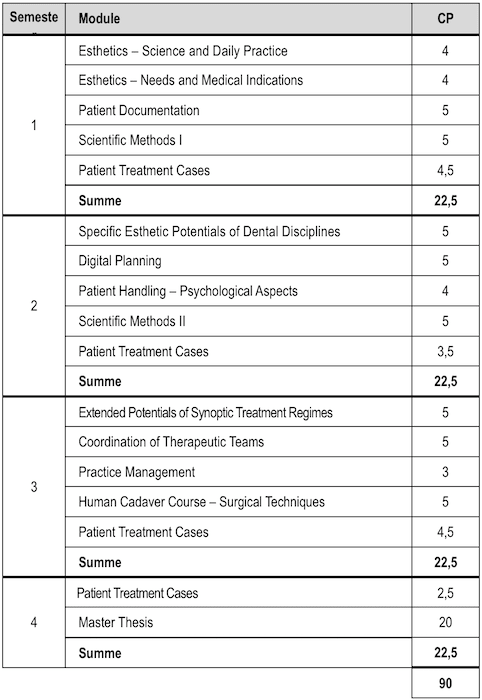 There will be hands-on courses and lectures. The program is tailored to meet the needs of practicing dentists and is based on the principle of blended learning and work-based learning. During the course of your studies, you will attend live treatments in Frankfurt and will be supervised on your own clinical cases in your home country. You're encouraged to document, share and discuss your own experiences with your individual tutor and fellow students. A multidisciplinary and international team of experts will be available to mentor you at any time.