MSc in
M.S. in Global Health
Georgetown University - Graduate School of Arts & Sciences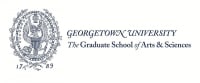 Scholarships
Explore scholarship opportunities to help fund your studies
Introduction
The Master of Science in Global Health program is based on an interdisciplinary and development-oriented approach to global health. With a strong focus on quantitative, qualitative and applied social sector research in developing countries, the program offers new opportunities to individuals pursuing a career in the field of global health.
This multidisciplinary, university-wide program offers courses taught by faculty from across the different Georgetown University campuses, schools, and institutes, such as Georgetown College, the School of Nursing & Health Studies, the Edmund A. Walsh School of Foreign Service, Georgetown University Medical Center, Georgetown Law, and McCourt School of Public Policy.
In addition, the Field Research Module provides students with field experience and students are expected to produce a scholarly paper that enhances the academic field of global health.
Academics
Learning Goals
By the end of the program, students should be able to demonstrate and apply knowledge of the core disciplines of public health, consisting of biostatistics, epidemiology, health economics, health policy and planning, and social science research. In particular, students should be able to:
Apply research skills in core public health disciplines to examine critically a range of global health challenges;
Identify and assess public health problems in low and middle-income countries, and evaluate policies and programs designed to improve global health;
Critically evaluate health research and policy using evidence-based methodologies;
Apply specialist knowledge in a chosen area of concentration (disease prevention and control, health policy and financing, health and development in Africa, urbanization and health, trade and health);
Demonstrate competence in designing and undertaking a field research or policy project in the chosen area of concentration, and communicating evidence-based findings.
Program Design
The Master of Science in Global Health program is organized around a core curriculum of global health and five areas of concentration. The program is designed as a full-time three-semester program (fall, spring, summer or fall) and requires 36 credits for degree completion. The minimum time required to complete the entire program is 13 months. The program is divided into three sections:
The Global Health Core courses (17 credits) will introduce students to the major issues and key concepts in global health;
The Concentration-specific courses (9 credits) provide opportunities for students to focus on specific areas of global health; the five areas of concentration are:
Disease Prevention & Control
Health Policy & Financing
Health & Development in Africa
Urbanization & Health
Trade & Health
The Field Research Module and Scholarly Project (10 credits) allow students to conceptualize a successful study, manage data in the field, and prepare a written summary of their findings, in addition to producing a scholarly paper that enhances the academic field of global health and provides a meaningful contribution to the health status of populations around the world.
Core Courses
GLOH 501: Introductory Biostatistics
Fall semester, 3 credits
GLOH 503: Research Methods 1 - Epidemiological Methods
Fall semester, 3 credits
GHDP 517: Health Economics and Finance
Fall semester, 3 credits
GLOH 520: Health Policy and Systems
Fall semester, 3 credits
GLOH 603: Implementation Science
Fall semester, 1 credit
GLOH 601: Research Methods II
Spring semester, 3 credits
Note: MSGH students are required to enroll in both GLOH 601 and GLOH 602 courses
GLOH 504: Introduction to mHealth
Spring semester, 1 credit
Concentrations
Disease Prevention and Control
The concentration in Disease Prevention and Control will provide in-depth training on the epidemiology, impact, and control of infectious, as well as non-communicable and chronic diseases. Students who choose this concentration will develop competency on topics as diverse as global emerging and re-emerging diseases, the threat of bioterrorism, large-scale international disease control partnerships, global environmental health issues, and the growing double burden of infectious and non-communicable diseases in developing countries. A concentration in Disease Prevention and Control will provide graduates with comprehensive program planning and management skills and will prepare them for a career in local, national and global diseases control programs in low- and middle-income countries.
Health Policy and Financing
The Health Policy and Financing concentration will prepare graduates for quantitative financial and policy work in support of governments in low- and middle-income countries. Students will learn to analyze and assess health insurance and other risk-pooling systems, They will master the techniques of health economics and acquire a framework for analyzing healthcare systems and designing strategies for system reform. By the end of the course, graduates will have the training and skills necessary to assess the performance of a health system and to formulate a plan to improve health system performance and results.
Health and Development in Africa
The Health and Development in Africa track provides students with training on critical aspects of African development from a demographic, economic, political, social, environmental, cultural, and health perspective. The concentration offers historical analysis as well as a vision for the future of African development. Students will analyze the causes and consequences of poverty, key issues in African population health, the impact of rapid urbanization on health and development, and the state of African health systems. Graduates choosing this concentration will develop the knowledge and skills necessary to appraise health and development issues in Africa and to devise appropriate policy responses and programmatic solutions that will help to address the multiple opportunities and challenges facing African countries today.
Trade and Health
The concentration in Trade and Health introduces students to the relationship between international laws governing patents and trade and efforts to protect and promote human health. Students will examine the economic, social, technological and political dimensions of globalization and how they impact health status, the provision of healthcare and global public health. They will think critically about how globalization and the international trade regime affect national regulation in the interests of human health. In-depth study of international treaties such as the Framework Convention on Tobacco Control and international agreements such as TRIPS will provide students with the conceptual and evidence-based foundation for the analysis of globalization, trade, transnational legal frameworks, and health.
Field Research Module & Scholarly Project
The Field Research Module enables students to apply and integrate classroom experience in the field, preferably abroad in a low-income country, and gain first-hand experience conducting research. During the ten-week assignment, students will either undertake field research or analyze secondary data collected by the institution where the students are placed at. The students will be under the direction of local preceptors who are experts in their field of study. In addition, students will be supported by Georgetown-based full-time and adjunct faculty members.
Students will develop and refine their advanced research methodologies and incorporate core skills from across the curriculum. They will learn to conceptualize a successful study, manage data in the field, and prepare a written summary of their findings. Students conducting data collection as part of their Field Research Module will need appropriate institutional/country approval for all data collection. This may mean obtaining simultaneously local IRB approval and Georgetown IRB approval. Students will need to consult with Dr. Bernhard Liese or Dr. Nuria Homedes to obtain the appropriate Georgetown IRB approval in a timely manner.
Students may choose to undertake their field research at one of the international institutions which the Department of International Health presently collaborates with. Current sites include:
Oswaldo Cruz Foundation in Rio de Janeiro, Brazil *Portuguese language requirement
Ghana Health Service research centers in Dodowa, Navrongo, and Kintampo, Ghana
Vector Control Research Center in Puducherry, India
El Colegio de la Frontera Sur in Chiapas, Mexico *Spanish language requirement
WHO Western Pacific Regional Office in Manila, Philippines
WHO Country Office in Kigali, Rwanda
National Institute for Medical Research in Dar es Salaam, Tanzania
Scholarly Paper
A critical element of the MSGH program is the production of a scholarly paper that enhances the academic field of global health and provides a meaningful contribution to the health status of underserved populations around the world. The topic should be an applied expertise of global health relevance and incorporate core skills from across the curriculum. The paper should be approximately 30-50 page double-spaced including any appendices. Students will be under the guidance of Dr. Bernhard Liese and Dr. Nuria Homedes who will serve as their advisors on the Scholarly Project.
English Language Requirements
Certify your English proficiency with the Duolingo English Test! The DET is a convenient, fast, and affordable online English test accepted by over 4,000 universities (like this one) around the world.