About the Partnership: DHGE and Webster University
DHGE and Webster University have partnered to offer credit and non-credit bearing programs in healthcare education. This pairing combines Webster's global excellence in teaching with DHGE's leading industry insights to provide dynamic, relevant opportunities to individuals working in healthcare.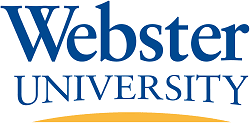 About Webster University
Webster University comprises an action-oriented global network of faculty, staff, students, and alumni who forge powerful bonds with each other and with their communities around the globe. Founded in 1915 in St. Louis, Missouri, Webster is a private non-profit university with students studying at campus locations in North America, Europe, Asia, and Africa. The university is committed to ensuring high-quality learning experiences that transform students for global citizenship and individual excellence.
Publications such as U.S. News and World Report have recognized Webster University as one of the top universities in the Midwest. Webster also has been cited by publications such as Diverse Issues in Higher Education for its dedication to offering educational opportunities to a diverse body of students.
The University was among the first in the country to offer online programs and today offers a robust catalog of undergraduate and graduate degree programs that can be completed online. Webster also is among the first universities to offer educational opportunities to active military personnel by operating satellite campuses on military bases.

About DHGE
Dignity Health Global Education (DHGE) is the leading healthcare workforce development company. Dedicated to providing customized educational opportunities and a student-centric experience, DHGE develops online programs and workforce development solutions with industry, for the industry. They achieve this goal by partnering with top-ranked academic institutions and thought-leading professionals.
Programs
RN to BSN — Registered Nurse to Bachelor of Science in Nursing