BSc in
Bachelor of Science in Diagnostic Imaging
Cox College AKA Cox Health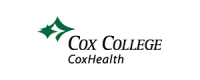 Scholarships
Explore scholarship opportunities to help fund your studies
Introduction
Our Bachelor of Science in Diagnostic Imaging (BSDI) degree is the first of its kind in Missouri. It is also one of only a few in the surrounding states. Join in a legacy of success that stretches over 40 years! Cox College has trained hundreds of speciality imaging professionals who have gone on to rewarding, life-changing careers, and you could be next!
Looking to earn a prized degree that fits with your schedule? All BSDI didactic courses can be completed online (except Diagnostic Medical Sonography).
Trying to balance work and school? Take advantage of convenient online learning! Whether you choose CT, MRI, IR, or Healthcare Leadership, our mentoring faculty will help you through the online curriculum. At the same time, you complete your clinical experience at a healthcare network near you.
Our imaging candidates come from a wide range of backgrounds. That is why we offer three enrollment options to fit your experience:
Students in the BSDI program can choose to pursue any of these tracks:
Computed Tomography (CT)
Diagnostic Medical Sonography (DMS)
DMS Echocardiography (ECH)
Interventional Radiography (IR)
Magnetic Resonance Imaging (MRI)
Healthcare Leadership
Total credits hours: 120.
Whether you are already registered in a primary imaging technique (like radiography) or have an associate's degree and crave primary certification, this is your path. Apply to our BSDI program and choose your CT, DMS, ECH, IR, MRI, or Healthcare Leadership specialization. After completing speciality courses and clinical requirements, you will be eligible to apply to the appropriate ARRT and/or ARDMS national registry(s).
Minimum credit hours: 64
Just need a few more credits? This path is ideal for technologists already registered in a primary (like radiography) and speciality imaging technique. Round out your degree with a select group of general education and core curriculum courses.
Minimum credit hours: 30