Brunel's 5-year MBBS enables you to graduate with the medical knowledge and professional skills you will need as a new doctor, ready for further training in the UK or overseas.
There are 120 places available for international students for September 2023 entry
Brunel Medical School is awarding a number of Medicine scholarships
Your learning at Brunel will be team-based, technology-driven and patient-focused preparing you for the future of medical practice. Team-based Learning (TBL) is the main teaching approach in the early years. This is a flipped class-room approach with emphasis on frequent monitoring of learning, and on interactive team work.
From your very first term you will learn about patient care from supervised interactions with real patients, through regular placements in General Practice surgeries.
In year 3 you will begin your clinical placements in hospitals; located in the west of Greater London and the South East of England.
The School aims to transform medical education and healthcare practice through education, research in combination with multidisciplinary community engagement. Brunel medical graduates will care for their patients and communities with kindness, professionalism and teamwork.
From September 2021 we're excited to be introducing a 5-year undergraduate degree in Medicine leading to the award of Bachelor of Medicine, Bachelor of Surgery (MBBS). The new Brunel Medical School is part of the College of Health and Life Sciences. Our 5-year MBBS in Medicine is open to students from outside the UK and EU. At the earliest opportunity, we will be discussing with Health Education England and the Office for Students, to enable us to offer our medicine degree to students from the UK and EU (to be confirmed) in the near future.
Why study Medicine at Brunel?
Clinical placements spanning London and the South East of England
During your medical studies at Brunel, you'll undertake a wide range of clinical placements. Here you'll not just be observing you will have the opportunity to apply your clinical knowledge to real-life clinical situations.
Scholarships
Brunel Medical School will award 10 scholarships specifically for MBBS Medicine for 2021/22 entry. For information please visit the scholarships web page.
A focus on community medicine
An exciting element of our MBBS in Medicine is how you'll apply your clinical knowledge in our local communities. You'll be looking at the 'bigger picture' by learning how to ensure good health for everyone, not just the health for one patient. This valuable experience gained locally can be applied to benefit communities around the world.
Learn the science and 'art' of medicine
Here at Brunel, we don't teach science in isolation, you'll need to know why you are learning. You'll learn all about the science of medicine – how doctors use up-to-date scientific research to aid decision-making. You'll also learn the 'art' of medicine - how evidence-based medicine is applied to every patient you will see.
Prepare for 'world' medicine
We will be providing specialist advice, support and guidance for those wishing to take the USMLE or MCCEE.
You'll learn about the 21st-century challenges that we face, its impact on health, and how this relates to the practice of caring for patients. You'll discover the significance of prevention, public health, rehabilitation and other aspects of clinical medicine on a global scale. We'll prepare you to practise medicine not just in the UK and your home country but also on a worldwide level.
The developed 'digital' world - Through our innovative curriculum, you will experience a range of technologies e.g. artificial intelligence, robotics, virtual reality and delivering virtual consultations.
The developing world – You'll be trained to practise medicine by considering the signs and symptoms of the patient without many aspects of modern technology. In some cases without electricity!
A Primary Medical Qualification
A UK medical degree is recognised around the world. You'll graduate with a Primary Medical Qualification, which provides you with provisional registration with the GMC and license to practise in Foundation Year 1 / Residency Year 1 posts.
Be a part of our international community
The world's students call Brunel home, something we're extremely proud of. In fact, there're 150 of the world's countries represented at Brunel which gives you the opportunity to live and study as part of a diverse, global community.
Guaranteed student accommodation on our West London campus
We have over 4,500 modern, comfortable and safe rooms with a range of accommodation options on campus.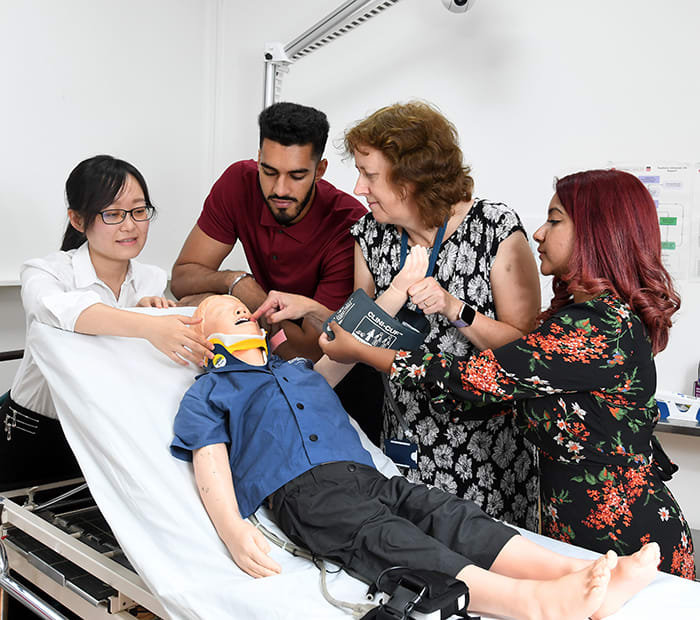 "We are proud of our world-class medical school at Brunel which aims to prepare you for 21st Century medicine in a range of clinical and community settings. In particular, we will embed knowledge and understanding of integrated care systems in which both physical and mental health care is increasingly delivered in the community, supported by advances in digital technology provision. We will produce doctors with the knowledge, skills, flexibility and patient-centred focus to practise medicine around the world."
Professor Paul Hellewell
Vice-Provost and Dean, College of Health and Life Sciences