M.D. in
Doctor of Podiatric Medicine
Barry University School of Podiatric Medicine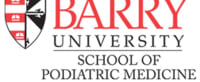 Introduction
The Podiatric Medicine Program is an intensive four-year program designed to provide you with a broad base of medical knowledge and extensive clinical experience. After graduation, students are encouraged to continue preparing for their careers by pursuing a residency program.
Caring and experienced professors who take a special interest in each student support the rigorous program. Barry University offers diversity unparalleled by any other school of podiatric medicine. Our program has the highest percentage of women and minority students of any podiatric medical school in the country. Barry University's Podiatric Medicine Program is eight of ten schools to maintain an accredited, independent, comprehensive, coeducational University. At Barry, we believe in giving you a quality foundation for your professional career. The University has a rich history in the medical and health care sciences.
The Doctor of Podiatric Medicine program's mission is to graduate skilled podiatric physicians qualified to enter residency training. This is accomplished by excellence in podiatric medical education, fostering life-long learning, expressing a commitment to social justice by serving the local and global community through quality patient care, and encouraging research and medical innovation that promotes the common good.