Nutrition & Natural Medicine Course in PERU
Home ›
Courses ›
Nutrition & Natural Medicine Course in PERU
Program Description
Nutrition and Natural Medicine in PERU
Nutrition and Natural Medicine: Sacred Valley of the Incas, Peru!
Now Accepting Winter Break & Summer applications! Priority is given to those who apply first as space is limited.
Nutrition and Natural Medicine Program Dates

See website for program dates and deadlines. http://www.linguistichorizons.com/nutrition-and-natural-medicine/
Nutrition and Natural Medicine Program Fee
$2,695 ~
Nutrition and Natural Medicine Program Description
Peruvian Superfoods * Andean Natural Medicine * Nutrition * Holistic Healthcare * Organic Farming * Vegan Cooking * Peruvian & Andean Cultures * Medicinal Plants * Cleansing
Learn about Holistic Nutrition and Natural Medicine in the Sacred Valley of the Incas, Peru. This program was designed for those interested in gaining a better understanding of food as medicine, plant-based medicine, and nutrition. We will learn from a variety of experts including a local herbalist, an Andean medicine practitioner, a vegan chef, a nutritionist, Andean guides, and organic farming specialists. We take a very hands-on approach to learning through workshops, cooking classes, hikes, patient treatments, and gardening. Identifying Medicinal Plants with a local HerbalistTreating Patients with Plant-based Medicines
Requirements
Age: 18+ (Exceptions may be made on a case by case basis. Please email info@LinguisticHorizons.com if you are under 18.)
Must hold a passport valid for at least 6 months beyond your stay abroad. Note: US Citizens do not require a visa for Peru, as you will be traveling as a tourist. If you are a citizen of another country you must check entry requirements for your country.
Completion of a travel physical and any recommended vaccinations with doctor's note release.
Visiting a High Andean Community
Included:
Pre-departure support (packing list, travel tips, what to expect)
International health & accident insurance
Welcome orientation & Guided intro to Urubamba
Acclimatization hike
24/7 local program coordinator support
Workshops (Peruvian Superfoods, Herbology, Medicinal Plants, Vegan Cooking, Cleansing)
* Note: Workshops topics could change though it is unlikely.
Excursions (Organic Planting, Day hikes identifying medicinal plants and herbs, Market visit to identify superfoods)
Accommodation: Housing (shared room & bathroom) Private room available upon request for an additional fee.
Meals: Meal Plan with 2 meals/day (except on departure and arrival days)
Airport pick-up & drop-off to/from Cusco airport
ISIC Student Discount Card (valid for discounts around the world for a full year, only for current students)
Guided Hikes & Cultural Activities

Cultural activities
Guided hikes to indigenous communities
Not Included:
Round-trip flight to Cusco (Student fares are available here). The sooner you book, the cheaper the flight will be!
Extra travel, additional meals, miscellaneous expenses (beyond those described above)
Optional add-on trips to Machu Picchu, Arequipa, Colca Canyon, Nazca Lines, Puerto Maldonado, Lima, Puno, Lake Titicaca, & Bolivia available upon request.
Traveler's insurance (optional).
Application Process
Fill out the application form
Pay the $95 application fee for the application.
At this point, we will review your application; and, if selected, we will verify your acceptance with an email. Note: your application fee is refundable only in the case that you are not accepted.
Upon receipt of the acceptance email, Program Fee deposit of $500 is due. Make your deposit as soon as possible to secure your placement, as space is limited.
Note: This deposit is not an extra fee, it will be deducted from your total Program Fee. This deposit is not refundable except under extreme circumstances.
2 months before the program starts, pay program fee balance. Payment plans are available upon request.
1 month prior to program start date, email a copy of your flight itinerary, a scanned copy of your passport, most recent grades if you are a student, a picture to be used for your student discount card, medical release "doctor's note" from a doctor that you have had a travel physical and checked that you have the proper vaccinations, and signed waivers to info@LinguisticHorizons.com
Last updated Apr 2018
Keystone scholarship
Discover the options our scholarship can give you
About the School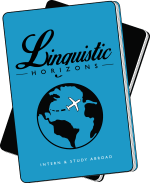 Linguistic Horizons fosters foreign language learning and cultural immersion through study aboard and internship programs. We facilitate experiences to destinations less traveled to encourage our part ... Read More
Linguistic Horizons fosters foreign language learning and cultural immersion through study aboard and internship programs. We facilitate experiences to destinations less traveled to encourage our participants to learn by interacting with locals.
Read less