Master in Oral Implantology
Read more about this program on the institution's website
Program Description
This program lasts for one academic year, during which students will acquire both theoretical knowledge and practical skills. The purpose of the master is to provide clinicians with necessary means for a correct diagnostic and operative approach to an ideal implant prosthetic rehabilitation. Students will be drawn into modern implantology from the diagnosis to the prosthetic rehabilitation and will have the chance to get in contact with the most modern surgical techniques and technologies.
Istituto Stomatologico Toscano is the Partner for the Professional Master Program.
The Professional Master is qualified as SCIENCE due to its technical and scientific characteristics.
UniCamillus divides the teaching proposal of First and Second level Professional Masters and Specialization Courses as follows:
Science:

courses characterized by a purely technical and scientific approach

Plus:

courses characterized by a multidisciplinary approach also containing elements and managerial and non-medical-surgical subjects

Experience:

the courses mentioned above with high and particular experiential activities of training and internships in specialized structures. The students who will complete the course and pass the final exam will receive a title and training credits (CFU)
Location:
Lectures will be held at Istituto Stomatologico Toscano.
Practical training and internship at Istituto Stomatologico Toscano.
Final Certification and Formative Credits: all candidates who have completed the planned training and passes the final exam will receive a second level Professional Master Degree in Oral Implantology with the grant of 60 credits(CFU)
Duration: The Master's program lasts 12 months and includes a total time of 1.500 hours, divided into:
Practical activity, lectures, and seminars
Internship (750 hours)
Study and individual preparation activities including the preparation of the final exam
Attendance mode: Attendance is mandatory for at least 75% of the total hours of the Master. For frontal lectures and seminars (unless otherwise communication) a commitment of 4 sessions of approximately 5 days is foreseen for the entire duration of the Master. The total hours of training will be scheduled in accordance with the host structure.
Places available: A minimum number of 10 students is requested in order to activate the Master. Below the threshold of 10 UniCamillus can unilaterally decide not to activate the Master (with a return of any already paid participant fees) The maximum number of students is 30.
Objective
The Master aims to carry out a correct diagnostic approach and formulate a correct treatment plan, providing the basis for an ideal implant-prosthetic rehabilitation, deepening the knowledge of the implant-supported prosthesis, from design to implementation, which takes into due account the biological, functional and aesthetic implications. The knowledge of complications and their prevention will be deepened.
The educational objective of the Master is to develop specialized knowledge on the design and execution of the most recent oral implantology techniques as well as to acquire an in-depth knowledge of the safest and most modern techniques and technologies in the field of implant surgery.
Career opportunities
Those who will obtain the 2nd level Master in Oral Implantology will be able, independently of the laws in force in the various countries, to carry out their professional activity autonomously at private health facilities, in a dependent or free professional regime.
Methodology and educational program
The Master has a theoretical-practical approach aimed at providing learning on the problems of the surgical and rehabilitation prosthetic phases supporting the implant.
The teachings that are carried out within the Tuscan Dental Institute, aim to provide basic theoretical and methodological knowledge and consist of lectures and practical laboratory activities
The Master's program includes the following teaching modules:
Module 1 (3 CFU): Anatomical and biological considerations in oral surgery
Interpreting and standing the clinical and procedural implications of the specific procedures of Implant Surgery. to highlight the functional aspects of bone tissue and biological responses to implant insertion
Bone biology notions
The phenomena of bone remodeling
Bone tissue response to prosthetic loads
Module 2 (2 CFU): Gnatology elements in implant-prosthetic rehabilitation
Analyze the gnatological implications of implant-supported prosthetic rehabilitation
Gnatomic function lines
Occlusal Considerations of Implant-Supported Implants
The implant-prosthetic treatment of the diagnostic patient
The Treatment Plan
Module 3 (1 CFU): Pathology of the oral mucosa
Classification Lips and oral cavity diseases
Pre-oral Oral lesions
Screening and treatment of oral lesions
Module 4 (2 CFU): Surgical technique in oral implantology
Preparation of the surgery field in aseptic conditions. Preparation of implant site, implant insertion, and insertion torque control. Surgical techniques for incision and suture
Module 5 (2 CFU): Bone reconstruction procedures
To deepen the biological bases of bone regeneration, cellular mechanisms of bone regeneration. Bone reconstruction techniques, type of biomaterials, type of membranes. Alveolar bone reconstruction techniques with bone blocks, maxillary sinus lifting techniques, inlay bone grafts in the posterior mandible.
Module 6 (2 CFU): Post extractive implants
Post-extraction bone remodeling phenomena, ridge preservation techniques, post-extractive implantation, post-mining plant, and GBR techniques. Post-extracting plant and immediate loading.
Module 7 (1 CFU): Prosthetic components and solutions
Explain the main connection options in implant prostheses by exploring the micromechanical aspects and organic a – Plant/abutment connection b – Abutment/prosthesis connection c – Component analysis of components
Module 8 (1 CFU): Prosthetic design in implantology
Make known the principles that guide the design of prosthetic rehabilitation on plants as far as the number pillars, biomechanical and aesthetic considerations(a) – Biomechanics of implant-supported prosthetic reconstruction (b) – Diagnostic wax-up (c )- Occlusal project (d) – Realization of the surgical stent (e) – Considerations on the tooth-implant connection(f)
Module 9 (1 CFU): Immediate loading procedures
Analyze surgical and prosthetic immediate procedures
Modulo 10 (1 CFU): Perimplants soft tissue
Second stage surgery, management of peri-implant soft tissue
Module 11 (1 CFU): Maxillo-facial surgery and oral sinusitis therapy
Oral reconstructive surgery
Bone vascular bone
Cervical maxillary sinus
Module 12 (1 CFU): Computer-guided surgery & innovations in implantology
Diagnostic surgical and prosthetic procedures Innovations in implantology
Module 13 (1 CFU): Treatment of peri-implantitis
Understand the prevalence of peri-implant pathologies, treatment principles, surgical techniques, and prevalence of post-treatment success
Module 14 (1 CFU): Hygiene protocols for candidates to prosthetic rehabilitation
Biological considerations on the connection between implant and prosthesis
Emergency and aesthetic profiles in prosthetic implants
Evolution of materials and techniques in an aesthetic dentist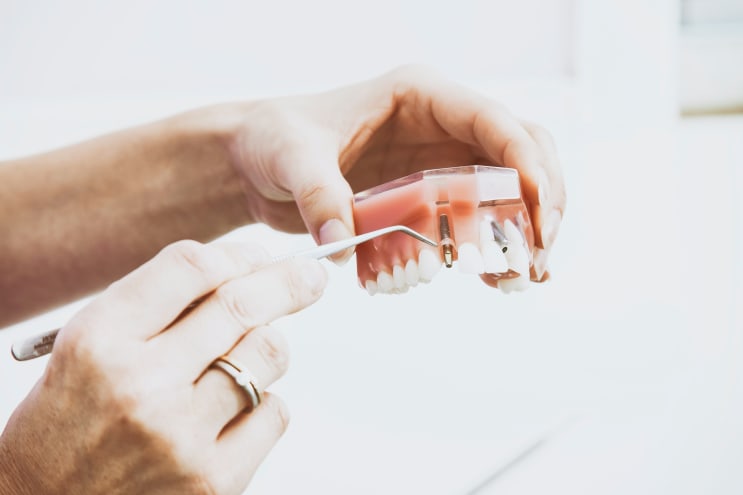 Main speakers
Simone Marconcini, (DDS, Ph.D., MSc): Research Fellow Tuscan Dental Institute, Foundation for Clinic, Research and Continuing Education in Dentistry
Giovanni Battista Menchini Fabris, DDS, Ph.D., MSc: Director Master in Oral Surgery & Implantology - Unicamillus
Michele Nannelli, MD DDS: Adjunct Professor of Guided Oral Surgery, Università G.Marconi, Roma
Roberto Crespi, MD MS: Extraordinary Professor of Oral Pathology UNiversity G. Marconi, Rome,
Annamaria Genovesi, RDH: Extraordinary Professor of Oreal Hygiene, University G.Marconi, Rome, Italy
Admission and selection criteria
One of the following degree titles are required to be admitted to the Professional Master Program (or near graduation by the Master enrolment deadline):
Master's degree and/or specialist degree in dentistry and dental prosthesis
Master's degree and/or specialist degree in medicine and surgery with specialization in Dentistry or qualification for the practice of dentistry
Master's degree in Medicine and Surgery
Other candidates who can also apply:
Candidates in possession of an Academic Degree equivalent to those listed above obtained in a foreign University.
Candidates in possession of an Academic Degree obtained abroad and equivalent in duration and content to those listed above.
The University reserves the right to admit candidates with different qualifications but relevant to the Master's course.
University tuition fees:
The partecipation fee is 8.500 Euros payed in 4 amount installments
1. installment with the application: 2.500,- EUR by 01/02/2021
2. installment: 2.000,- EUR by 01/04/2021
3. installment: 2.000,- EUR by 01/09/2021
4. installment: 2.000,- EUR by 01/12/2021
Procedures and terms for application
The application must be received, signed and written on plain paper, as well as written clearly and legibly, using the form available on the site, by the date of 01/02/2021:
With hand delivery to the University (Monday to Friday 9 to 13.)
Registered letter A/R at the address: Scuola post-laurea – UniCamillus University – Via di Sant'Alessandro 8 – 00131 Roma
Email to both of the following email addresses:

unicamillus@pec.it
postlaurea@unicamillus.org
Please specify the name of the Professional Master you wish to attend.
The following documents must be attached to the application:
Curriculum vitae et studiorum European format, dated and signed;
Photocopy of an identity card;
Any other academic titles that the candidates wish to submit for the admission;
Statement of having read the above information related to the personal data in vison of art.13 and 14 in accordance with the European legislation (UE) 2016/679;
Photocopy of fiscal code or health insurance card (for Italian citizens and foreigners in possession of it);
For candidates in possession of equivalent qualifications to those required: declaration in lieu of certification pursuant to art. 46 of D.P.R.28/12/2000,n. 445, certifying the achievement of the aforementioned securities in accordance with current legislation;
Candidates in possession of an academic title obtained in a foreign country will have to present the "Declaration of studies abroad" using the form available on the site. Within 2 months from the beginning of the Master, those candidates will have to deliver to the student secretariat, the original of the official translation in Italian of the full qualifications of legalization and of the Declaration of Value issued by the Italian Embassy or Italian Consulate General competent for the territory in the country in which the title was produced;
Payment copy of the participation fee of €2.500,00
Last updated Oct 2020
About the School
The Istituto Stomatologico Toscano of Lido di Camaiore, in the province of Lucca, deals with the training and development of continuing education programs for dentists, dental hygienists, and dental a ... Read More
The Istituto Stomatologico Toscano of Lido di Camaiore, in the province of Lucca, deals with the training and development of continuing education programs for dentists, dental hygienists, and dental assistants. The Higher Education school is aimed at both students who have obtained a three-year degree and those who have obtained a specialist or old-school master's degree, as well as for professionals who want to get back into the game, deepen their skills and increase the quality of the services they offer their patients.
Read less