Program Description
The Pharmacy Faculty was established in 1966. The faculty prepares the students for a career in pharmacy with a thorough understanding of drugs and diseases. The curriculum promotes interaction between pharmacists and other health professionals. The pharmacy curriculum offers a professional five-year program leading to a Pharmaceutical Degree.

Teaching Method
Pharmacy is taught in semesters, each of them ending in examinations or project presentations. Studies consist of lectures (30 percent of the curriculum) and seminars/practical sessions, which are the main teaching methods and constitute 70 percent of the entire curriculum. Each course includes lectures, seminars, laboratory work, small group work, practice-based activities, and assignments. Using the body systems model as an integrated context for teaching, the curriculum is designed to break down barriers between disciplines, helping students to learn more effectively. Teaching is integrated, facilitating students' exposure to basic and applied science and professional practice in the context of patient care. This will be supported by an increasing focus on practice-related learning, as evidenced by placements and in-house simulation-based learning, as well as additional practice experience provided in-house.
The curriculum consists of 4 blocks of disciplines: humanities and socio-economic sciences, natural sciences, medico-biological, professional and specialty disciplines. The course graduates can obtain the basic specialty having undergone training in an internship (primary one year study) in the following specialties:
Pharmaceutical Administration and Economics, Pharmaceutical Technology, Pharmaceutical Chemistry, and Pharmacognosy or in full-time or correspondence postgraduate course.
The sphere of the professional activity of the graduates comprises effective administrative and productive activity: in pharmaceutical institutions and companies, in the centers for quality control of medicinal drugs (control and analytical laboratories), in toxicological and biochemical laboratories, at pharmaceutical enterprises, in research institutes, etc.

Duration of Study
5 Years

Two Intakes
September & February

Entry Level
A-Level (WAEC, NECO, IGCSE, IB), IB, Baccalaureat, WAEC, NECO, Higher Secondary School Certificate, Senior Secondary Education Certificate, National Senior Certificate, Matriculation.

KSMU Graduates are awarded the degree of Pharmacist.

Accommodation is provided in nearby student Hostel. Affordable Tuition Fee.
Student Life
KSMU provides students with a world-class education in an environment full of new opportunities and ideas which will help to shape your future. Learning new skills, meeting new and interesting people; making friends for life; these are all a normal part of the university experience and KSMU is no exception.
With over 5,500 students studying at KSMU (over 1,200 of which are international students), the campus is a bustling hive of activity and a real melting pot of multicultural cooperation. From sporting events, through to the arts, Kursk is a center for innovation and culture like no other.
Our students are involved in a range of activities ranging from sports through to arts, social and other intellectual pursuits and enriching activities. Campus life at KSMU has something to offer everyone, no matter what your interest.
There are many ways in which you can meet new friends here at KSMU for example by joining one of the many vibrant student societies, or creating one of your own! Our large and diverse student community makes for a very interesting environment to socialize, learn new skills and meet new people!
You will also have the opportunity to visit local historic attractions for you to visit and explore with your new friends and learn more about Russian culture and history. You could spend hours at the local cafes, shops, and museums or take a walk through one of the beautiful parks nearby.
Last updated Oct 2018
About the School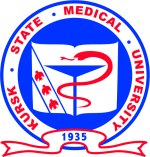 Kursk State Medical University (KSMU) occupies a prestigious level in teaching General Medical, Dentistry and Pharmacy in English medium and in preparing international students. This occupancy shown a ... Read More
Kursk State Medical University (KSMU) occupies a prestigious level in teaching General Medical, Dentistry and Pharmacy in English medium and in preparing international students. This occupancy shown as being the oldest medical university teaching in English medium in Russia and holding the highest number of international students from different nationality as in it spheres.
Read less